Posted by Benjamin Wendell in Entertainment, Politics, World Events.
add a comment
You've got to ask yourself.  Were these two separated at birth?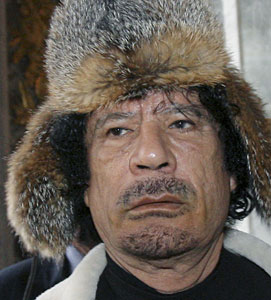 In the first place, they both rock the hat.  Aside from that, they seem to have been drinking the same Kool-Aid.  Mo says that the million people in the streets who want his head on a stake, with or without the chapeau, are druggies and Al Qaeda spies.  Charlie, who has called his boss a putz and himself a ninja warlock assassin, says that CBS had no right to fire him, and furthermore, he wants a 50% raise over his already obscene salary.  One of these guys is only going to be cured by a high caliber bullet to the head and the other is only going to be cured by high dose of anti-psychotic medication.  You decide which is which.
Meanwhile, the big debate out here in the blogosphere is what the president should do about Libya and Gadhafi (the first thing we ought to do is decide how to spell the fucker's name, but that's another story).  Predictably, the howlers on the FOX right are screaming that Obama has screwed the pooch yet again, but when no less than Eugene Robinson adds a voice to the chorus, it's time to take some notice.
We've already wasted trillions of dollars on fruitless military intervention in Afghanistan and Iraq, places where we used to have an enemy but arguably don't anymore and where we never really had any reason to be there in the first place, respectively.  But in Libya, for a relatively modest investment of military dollars, we could get a lot of bang for the buck.  We could prevent a lot of civilians from being slaughtered, we could facilitate a sudden cardiac arrest in a certain lunatic despot, and we could be back on the troop transports in under a month.  But that would be too easy.
BW