Posted by Benjamin Wendell in Entertainment, Scandals.
add a comment
It didn't require much thought or contemplation to decide on the winner of the 2011 LRC Best Blog-Fodder Award.  Without further ado:
It's not so much the "winning", "tiger blood", "adonis DNA", or "godesses".  It's blowing off a job that pays a million bucks a week for a half hour's work by insulting the guy who writes your paycheck with an anti-semitic epithet.  Congratulations, Charlie, you perfectly fabulous lunatic.
Sadly, Mel Gibson was excluded from the competition since his meltdown occured in 2010, but in consideration of the startling depth and breadth of his contributions in the areas of rude, tasteless,boorish, racist, and misogynisitic behavior, the academy has awarded Mel a lifetime acheivement award, which comes with the promise to never attend any movie he produces, directs, or appears in, even if he offers a ten minute baby-oiled nude girl/girl scene featuring Scarlett Johannsen and Jessica Biel (ok, fine…maybe then, but only on DVD, and I'm fast-forwarding through the rest of it).
Meanwhile, it's been a very busy week for the beautiful people.  Hook-ups and break-ups galore, the usual musical beds of the rich and somewhat famous.  Inquiring minds want to know, and I'm here to help.
Sinead O'Connor and Barry Herridge Divorce After 18 Days Said the ex-Mrs. Herridge, "I just looked at him in the light one day and discovered he has a really big funny looking head, like bleedin' ET or something.  And it turned out that he wasn't nearly the rump ranger I'd bargained for, so this was best for everyone."  (Totally false.)  All I know is that if she had long black hair instead of a shaved head, a bigger booty, and names that all began with "K", this would be a bigger story by 54 days.
The aforementioned Mel Gibson's divorce from his wife Robyn is final.  If Jesus found some time off from fucking with Tim Tebow, He probably made sure that Mr. Devout  had to pony up more than half his $900 million fortune to his long-suffering spouse.  Hallelujah and amen.
Hugh Heffner and his ex, Chrystal Harris, are fighting over custody of Charlie, a King Charles spaniel.  Heff thinks it's only equitable that he gets the dog.  It's not so much that Harris kept the ring and the Bentley.  Said Heff, "Fair's fair.  She took the pussy, so I should get the puppy."  (Totally fabricated, and quite possibly actionable.)
Fast approaching sell-by date: Russell Brand and Katy Perry spent Christmas apart and both were spotted without their wedding rings.  Hurry up, guys.  I had one year in the office pool.
Getting right back up on the whorse: Ashton Kutcher was spotted hanging out with screenwriter Lorene Scafaria in Italy.  And Demi Moore was seen at several high schools in Southern California, checking out the graduating seniors. (Shockingly totally false.)
In happier news, Lady Gaga has been getting cozy with Taylor Kinney, reportedly bunking at his beach house, which looks like this: Which might explain why Gaga just released a track from her new album, "Born This Way", called "Stuck On Fuckin' You".  (That one's totally true.)
In even more joyous tidings, Matthew McConaughey is engaged to girlfriend Camila Alves, which is all the more touching, given that they have two children together.  Reportedly McConaughey is giving her a Mercedes convertible for a wedding gift and she's giving him soap on a rope.  (Yes, I made that up.)
And slap me upside the head and call me a hopeless romantic, but I just get all warm and fuzzy when I hear that Rihanna and Chris Brown are exchanging endearing tweets.  Which gives me an excuse to post this pic: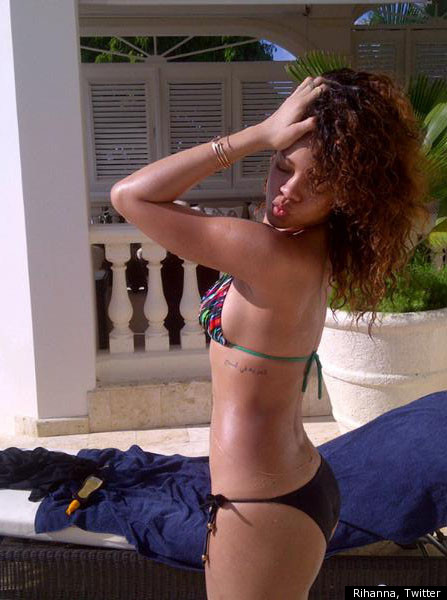 Ri Ri should be careful with those tatts, or she'll end up like Megan Fox, who is reportedly not tolerating her laser removal of her Marilyn Monroe tattoo very well.
Not to worry.  If she leaves it in place long enough it'll morph into Golda Meir.
In more romantic news, Michael Jordan is engaged to Yvette Prieto.  If Mike runs true to his rumored Chicago form, Yvette should start checking his cell phone on a weekly basis and carefully review the monogamy clause in the pre-nup.  Also, Debra Messing is dating her co-star on "Smash", Will Chase, just ten days after announcing the divorce from her husband.  Seems like a decent interval.  In more positive news, Robert DeNiro and Grace Hightower just had a baby girl.  The really shocking aspect to the story is that DeNiro and Hightower are MARRIED…like more than nine months before the birth and everything.  All of Hollywood stands in awe.  Rachel Uchitel, late of Tiger Woods, is also five months pregnant, if only three months married…better late than never.
But I saved the best for last: In "Dark Secrets", a biography of Richard Nixon by former White House correspondent Don Fulsom, the author claims that Tricky Dicky had a homsexual affair with his mobbed-up Florida banker buddy, Bebe Rebozo.
This is good news and bad.  It just means that what Satan is undoubtedly doing to Nixon in hell…Nixon is enjoying.
Happy New Year.
BW