Posted by Benjamin Wendell in Entertainment, Scandals.
Tags: affair, american idol, Arnold Schwarzenegger, christen stewart, feud, hulk hogan, lady gaga, mariah carey, nicki minaj, nipples, sex tape, topless
add a comment
Just when I thought this week was going to be an utter washout, like manna from the heavens, I was delivered a veritable feast of nakedity.  Kristen Stewart is topless in her new film, "On The Road"!  [For those of you who are not familiar with the concept, click on the link and scroll down to the bottom of the page for the "NSFW" pics.]
As an aside, it looks like she's back together again with Robert Pattinson.  Apparently vampire sex is just that good.
Bella the bloodsucker is not the only naked celeb of the week.  Your favorite little monster, Lady Gaga herself, is flaunting some nipplage in a twitter pic with her and designer Donatella Versace.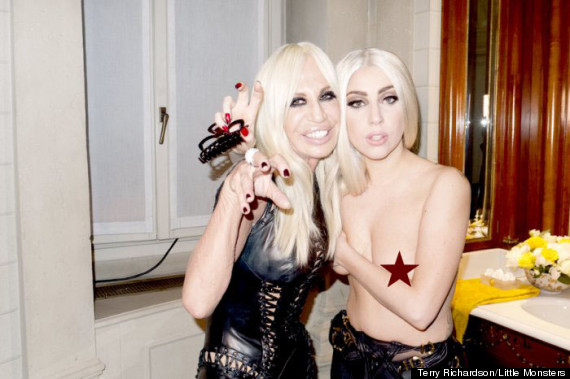 For those of you who won't convulse at the sight of areola, the uncensored image is available here.  I'd be staring at it myself, but I can't pull my eyes away from Versace's silicone lips.  Note to her plastic surgeon: Know when to say when.
In other naked news, the future queen of England has been further exploited by those soulless European tabloids, which courtesy of a 4000 power telescopic lens, have not only topless picture of Kate, but bottomless pictures as well.  I, for one, would never lower myself to gazing upon the royal lady parts, but if any of you sick puppies insist, you can check this Egotastic link for the full album.  God save the queen.
In train wreck news, Lindsay Lohan is at it again.  Police were called to her New York hotel suite at 4:30AM when she got into a scuffle with a guy she'd invited to her room.  Apparently she wanted to confiscate his cell phone after he took some pictures of which she did not approve.  One can only imagine what might be contained in those images.  Anderson Cooper had the best summary of the Lilo situation on his afternoon talk show.  He said (paraphrasing), "Look, she's only been in New York two weeks and has already had two incidents involving police.  I've lived here my whole life and I've never even talked to a cop."
On a similar note, singer Fiona Apple was arrested at the Willy Nelson Memorial Border Crossing in Sierra Blanca, Texas when the authorities found hashish on her tour bus.  Two weeks later, during a concert in Clearwater, Florida, she sat down mid-performance and staged a legendary rant excoriating the tabloid press in general and Perez Hilton in particular.  Hey, dude, take a toke and chill, ok?  Meanwhile, if she'd like to include us in her next rant, it's spelled L-E-F-T….
Hey, cowboy, how 'bout I shine that big old belt buckle?: Country star Jason Aldean, apparently unaware of "The Tiger Rule", was cell phone photographed at a bar fondling former "American Idol" contestant Brittany Kerr.  In damage control mode, Aldean immediately tweeted that he'd been led astray by the alcohol (and his conscienceless dick). [Totally false (the dick part).  I made that up.]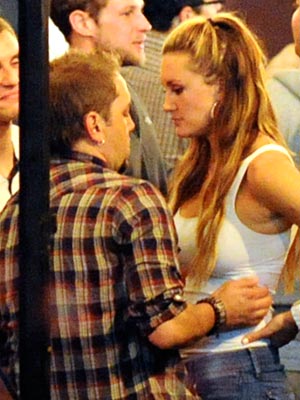 In other American Idol news, the dueling divas feud has already commenced (no, not Seacrest and Randy Jackson…the other divas).  In the midst of an audition taping in Charlotte, NC, Nicki Minaj and Mariah Carey got into it over the vocal attributes of a contestant.  At one point, Minaj reportedly told the producers, "I told them, I'm not fuckin' puttin' up with her fuckin' highness over there!"  Rumor has it that Minaj also threatened to shoot Carey and that Carey has beefed up her security.  This is just getting too weird.  I'm guessing that Ellen DeGeneres never got up in Randy's grill, and the worst thing Paula Abdul ever did was slur Simon's name in a Xanax haze.  Still, I'm beginning to rethink my vow to drop AI this season.
Celebrities behaving politically badly: If you didn't catch the Arnold Schwarzenegger interview, let me sum it up for you in the governator's own words, "Yah, correct, I am a prick, and wit my huge weinerschnitzle I schtupped Bridget Nielson real good.  Maria, dat skinny bitch, had no clue. Seig Heil!…ach!…I mean, guten nacht."  And here's why you can be a creative genius and still ought to stay out of the handicapping business: Seth MacFarlane, creator of "Family Guy" and future Academy Awards host, said in an interview Wednesday, "I think, at this point, Obama could walk out onto the stage with his penis out [and] he's still going to win."  Maybe the president should have tried that ploy.
Best picture of the week: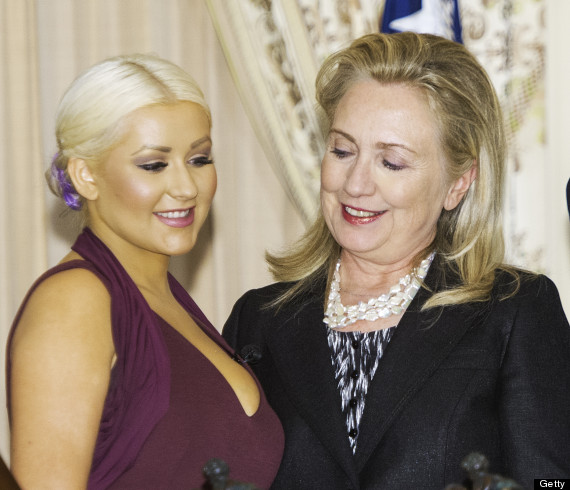 Hey, who wouldn't?
Finally, the story I think we've all been breathlessly anticipating: Hulk Hogan Sex Tape Leaks!  This one ought to be subtitled, "The banality of celebrity."  Watch the tape.  See if you enjoy it as much as I did when he stops to answer a cell call from his son.  Ah…romance in the 21st century.
BW