Posted by Benjamin Wendell in Entertainment, Scandals.
Tags: Ashton Kutcher, break-up, Demi Moore, Elisabetta Canalis, gay, George Clooney, jewish men lie, mistress, Nancy Grace, nip slip, Patti Stanger, promiscuity, Stacey Kiebler
add a comment
I happen to be a fan of "Millionaire Matchmaker", mainly because I tend to feel much better about myself when I see a bunch of guys worth mega-millions who seem to have the social skills of your average teenage computer hacker.  I also have a particular fondness for loud brassy aggressive Jewish women…it's not for nothing that I've seen every episode of "The Nanny", some of them two or three times on "Nick At Night".  So I'm rather familiar with Patti Stanger, who says what she thinks without any particular regard for who's listening or who might be offended, and who thought she was wrong once…but she was mistaken.

Patti's tendency to open her mouth well before engaging her brain landed her as celebrity moron-of-the-week, since Charlie Sheen has been on hiatus.  Appearing on "Watch What Happens Live" last Sunday, Stanger generalized that gay men can't stop being promiscuous and that "Jewish men lie".  Coincidentally, Andy Cohen, the host of the show, is Jewish and gay.  Whoops!  I'll take the second contention first.  I happen to be a Jewish male and while I can't speak for all of my contemporaries, it's a sure bet I've gotten myself in a hell of a lot more trouble over the years being brutally honest than I ever did dissembling.  If you check the comments in any of the many articles reviewing Patti's remarks, you'll find a lot of remarks like, "It's not that Jewish men lie.  It's that all men lie.  They're men."  Fine, I'll keep that in mind next time one of you asks me if your ass looks fat in these pants.
As to Stanger's implication that gay males are congenital man-sluts, she's certainly not telling us anything we haven't heard before.  In this case the counter-argument that all men tend toward promiscuity might be valid…you know, that whole evolutionary benefit to spreading your seed far and wide and all that.  It just seems that heterosexual men more often make the choice of monogamy, perhaps because of our understanding of the consequences doled out by our heterosexual mates if we choose to do otherwise.  So the conclusion here is that all men want to sample as many partners as possible, but that gay men are just better at it.  For what it's worth, there have been countless scientific and sociological studies on this very question.  A recent study showed that most gay men and heterosexual men had about equal numbers of lifetime sexual partners, but a significant minority of gay men, 13%, had stratospheric numbers.  I'm never sure how much credence to put in these surveys…they depend on people answering intimate questions honestly.  Let's see how many boxes got checked "yes" on the enemas with midgets question.
Speaking of the aforementioned Charlie Sheen, "Two And A Half Men" creator and producer Chuck Lorre is reportedly writing a tell-all memoir.  If it really does tell all, they may have to stock it in the horror section, right next to Stephen King.  By the way, if you ever find yourself bored with Angry Birds and internet porn, you might enjoy going to Chuck Lorre's "vanity card" site.  These are the little apocryphal stories, essays, and poems you see flash by your screen briefly at the end of "Big Bang Theory", "Two And A Half Men" and other Lorre productions.  They are uniformly brilliant.
Let's talk "Dancing With The Stars" just a little bit.  I've already reviewed the Nancy Grace "Janet Jackson moment", an image I've tried unsuccessfully to banish from memory these last four days.  Nancy still staunchly maintains that the nipple we all saw was not a nipple…apparently conservative talk-show hosts don't have nipples.  We'll check it out with Sean Hannity.  Grace's lady parts apparently aren't the only featured anatomy on the DWTS set.  The queen of TMI, DWTS alum Kendra Wilkinson, tells us that she calmed her nerves every Tuesday by having sex in her trailer with husband Hank Baskett…or three lucky members of the dance troupe, depending on who was available (ok, I made that last part up.)  This Tuesday, Elisabetta Canalis, George Clooney's ex, who committed the unforgivable DWTS sin of being pissy with her dance pro, was summarily dismissed from the ballroom.  She's had a tough year, dumpage-wise.  Clooney was probably not glued to his 80 inch HDTV at the villa Tuesday night.  He spends most of his time these days looking UP:
Given Clooney's proclivity for DWTS alumni, how long can it be before he hooks up with Wendy Williams??
I'm just sayin'.  You want to know how good it is to be George Clooney?  I'll tell you.  While filming his new movie, "The Ides Of March", he went skinny dipping with Marisa Tomei and Evan Rachel Wood.  Hell, I'd feel lucky just to get flashed by Whoopi Goldberg, let alone get naked with Marisa Tomei.  I only went skinny dipping once in my life, back in high school.  I think it was the origin of the term "shrinkage"…but hey, it was COLD water.
The set of Dancing With The Stars more or less proves that the world has gone mad, but not because of the reasons you might imagine.  It's not Bruno's bombast or the frightening proliferation of fringe, spandex, and sequins.  Yesterday, someone sent a "suspicious letter" containing a white powder addressed to "Dancing With The Stars", which spurred an evacuation and a production shut-down.  Note to whichever douche nozzle perpetrated this outrageous act of terrorism: If you don't like Chaz Bono, Carson Kressley, or even Rob Kardashian, don't vote for them, or just go back to watching Bill O'Reilly.  And I hope the next powder you smell is on the rubber gloves right before they begin your full body cavity search.
In this week's example of art imitating life, Ashton Kutcher, who's taken over Charlie Sheen's part of the testosterone-sated horndog on "Two And A Half Men" has reportedly separated from his wife of six years, Demi Moore.  This was after pictures emerged of Ashton with 23-y/o Sara Leal (note: Demi is 48 and Ashton is 33).
  I can't imagine what Kutcher could be thinking.  If he just sticks it out with Demi a few more years, he'll never have the embarrassment of going to CVS for tampons ever again.
Finally, and I do mean finally, it's over between Jesse James and Kat Von D.  Really.  This time it's really over.  She's having the tatt of Jesse inked over with an orangutan ass…oh, wait…no change necessary.
BW
Posted by Benjamin Wendell in Entertainment, Scandals.
Tags: break-up, divorce, gene simmons, Jennifer Lopez, Jesse James, Justin Bieber, kat von d, tattoo
add a comment
It's a widely accepted precept that if you get a tattoo of your significant other's name anywhere on your body, the shelf life for the relationship is about 18 months from the time the needle hits the skin.  Apparently, if you get a picture of your significant other's face anywhere on your body, the sell-by date moves up to just a few weeks.  Shockingly, this was the case with Jesse James (late of Sandra Bullock fame) and Kat Von D.  Kat added to her body mural not just a full color visage of Jesse's face…but of Jesse's face as a pre-teen (gaining extra points for pure creepiness).  By the time the episode of "L.A. Ink" showing Kat's new body art aired, the break-up had been announced.  I don't know about you people, but I'm devastated…I was certain this one was forever.  Go figure.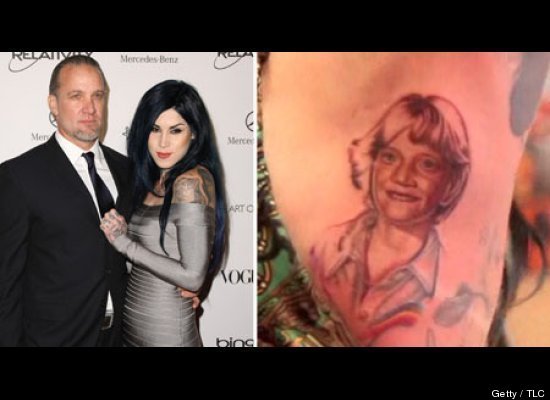 No worries, Kat.  With a little luck maybe you can add a baby pic of Charlie Sheen and you'll be good to go.
But this wasn't even close to being the most bizarre tattoo tale of the week.  Nope, that honor goes to wunderkind Justin Bieber.  Justin, who like Britney Spears before him, is a devout Christian and self-declared virgin until marriage (attention Justin Timberlake: How'd that work out?) has sealed his sanctity and devotion  with a tattoo on his chest of the Hebrew word for "Yeshua" (Jesus).  I have no doubt this is exactly what Jesus envisioned and hoped for two thousand years ago; that overproduced and undertalented pop stars would adorn themselves with his moniker, and that everyone else would parade around wearing jeweled totems of the device employed to torture and kill him.  But it wasn't just Justin who got the sacred inking…he and his dad went to the tattoo parlor together and got matching tatts, bringing paternal bonding to a whole new level, and making you wonder where child protective services are when you need them.
So, just a couple of suggestions for the senior Bieber.  First, you might want to avoid long stays in bright sunshine.  Jesus may save you from hell, but he doesn't seem to much care about melanoma.  Second, here's a little something you might want to consider for your next tattoo:
Which is Hebrew for "putz".  No need to thank me.  I'm here to help.
Of course, everyone knows by now that the other major celebrity break-up this week was Jennifer Lopez and Marc Anthony, but what you may not have heard is that J.Lo is rumored to be contemplating rekindling her affair with Sean Combs/P. Diddy/Diddy.  Apparently she's reached an impasse, however, since she can't decide what to call him; Diddly Squat doesn't seem to be working.  Stay tuned.
The other celebrity split of the week was Chicago Bear's quarterback Jay Cutler and TV C-lister Kristin Cavallari.  Strange way to celebrate the end of the NFL lock-out, but maybe he's looking to trade up.  J Lo may be available (see above).
With all these stories of divorce and division, one begins to completely lose faith in the state of romance.  I mean, if you can't bank on a lifelong committments from Jesse James and J Lo, what's left to keep your spirits afloat?  Never fear.  It looks as if Gene Simmons and Shannon Tweed are finally going to tie the knot.  This one will work for sure, the Paul Newman and Joanne Woodward for the baby boom generation!  How could anyone not want to spend their golden years with this man?: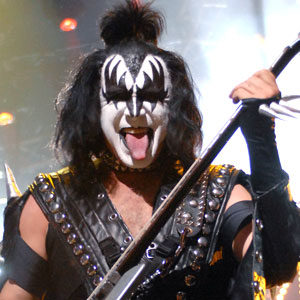 Speaking of outlandish, Adrianne Curry, past winner of "America's Top Model" was actually thrown out of Comic-Con for being "inappropriately dressed" (insert irony here):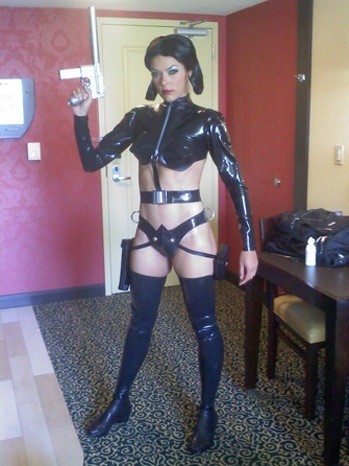 Apparently the geeks at the event were confused and frightened at the sight of an actual partially unclothed female.  Some were so befuddled that they had to be escorted out of the Dungeons and Dragons game room to receive smelling salts.
Finally, no week would be complete without the Charlie Sheen update.  When you think of Charlie's lifestyle, you have to wonder what it was like to be married to him.  Did he suspend his love affair with hookers, threesomes, cocaine and booze in favor of picnics with the kids and bridge games with the neighbors?  Were his wives so involved with church socials and volunteering at homeless shelters that they had no time for Charlie's hobbies?  Wonder no more.  Denise Richards shared with Howard Stern her tale of her lesbian relationship…with an unnamed star "whose name we'd recognize".   Fine, if she won't munch and tell, I'll just run the fantasy in my mind with a list of likely possibilities, starting with Heather Locklear.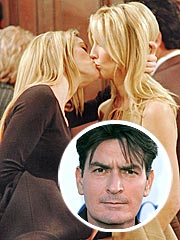 Until next week, boys and girls.  Peace, out.
BW
Posted by Benjamin Wendell in Entertainment.
Tags: affair, break-up, divorce, elin nordegren, ellen degeneres, kelly mcgillis, larry king, lesbian, mel gibson, mellisa ethridge, portia derossi, tiger woods
add a comment
Is not, strictly speaking, the subject of this post, but it's sort of a loose association, and since my last post on Ms. McGillis earned LRC the largest number of hits ever, I figured "what the hell?"  If you clicked on this link just to find out the latest about the long lost star of "Top Gun", as best I know, she's doing just fine.  Now feel free to take a look around at rest of the site.  We're here to inform, entertain, and maybe make you think…or at least smile.
Anyway, since I'm LRC's designated lesbian news correspondent, I have to bring you some disturbing news.  Today's number two celebrity break-up is Melissa Etheridge and Tammy Etheridge, splitting the sheets after nine years of wedded bliss, insofar as that is possible, depending in which state you happen to reside.
I note that the Etheridges are only the number two celebrity break-up of the day, because like Farrah Fawcett having the misfortune to exit planet earth just prior to Michael Jackson (CNN report: "And oh yeah, Farrah Fawcett died too.  Moving on, Latoya Jackson was seen tearfully exiting hand in hand with Tito…"), the lesbian duo was ecclipsed by Larry King  splitting from his eighth wife, but actually his ninth marriage, since he married and divorced one of them twice.
Bizarrely enough, King is reportedly accused of having an affair with his wife's sister.  Presumably, whatever remaining supply of Viagra that isn't sequestered by Rush Limbaugh has been cornered by the 76 year-old King.
There must be some sort of relationship conflict pollen in the air, because Etheridge and King weren't the only celebrities to split from their soul-mates today.  Yep, that paragon of Catholic virtue, sobriety, and family values, Mel Gibson, after leaving his wife and litter to do the honorable thing and be with Oksana Grigorieva, his Russian girlfriend and the mother of his latest five month old infant, is calling it quits and moving on.  No explanation was given, but I'm sure Jewish bankers are to blame.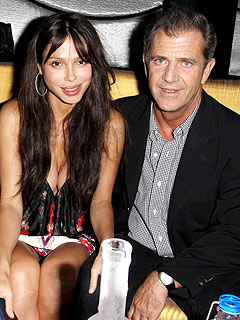 And as my blogmate has already noted, word on the street is that Elin Nordegren has seen her lawyer, packed the Gucci bags, and is headed back to Sweden with the brood.  She rightly feels that even sitting on the same sofa as Tiger might constitute a public health threat.
Here's one last picture and a final thought:
Do you notice one striking similarity in all these photos?  Like that all the celebrity spouses/mistresses/concubines/BFF's are way more attractive than their more famous meal tickets?  I wonder why that is…and for Ellen's sake, I hope Portia doesn't make note of the trend.
BW