Posted by Benjamin Wendell in Entertainment, Scandals.
Tags: affair, bitch, feud, gwyneth paltrow, lady gaga, Madonna, nude photos, perez hilton, texting, V, Vanity Fair
add a comment
Truth be told, most of the misbehavior this week didn't involve celebrities per se.  It involved morons in three-piece suits and their minions in three-cornered hats: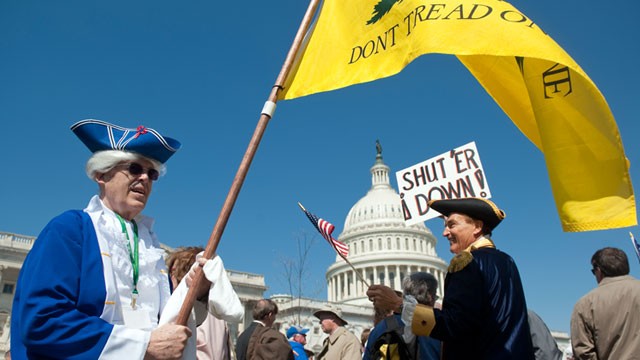 Celebrities aren't that different from anyone else.  When this kind of nonsense is occupying every nook and cranny of the national psyche and there's a very real possiblity that your 401-K is about to go the way of the Betamax, you tend to stay indoors spend your free time checking  your ammo supplies.  So our tales of Hollywood hijinks are even slimmer than they've been the last few weeks…and if someone doesn't leak a sex tape pretty soon I'm going to have to go back to reporting real news.
Madonna apparently hasn't been to the movies lately.  If she had, she might have taken note of the dozen or so large colorful loud repetitive announcements made prior to every movie on the planet that implore theater-goers to refrain from cell-phoning, texting, and talking during the film.  Or maybe she noted the warnings but decided that they applied to Homo sapiens, but not whatever species to which she belongs (I'm pretty sure it's Divus myshitdon'tstinkus, but I could be mistaken).
Anyway, when Madge was at a screening of "12 Years A Slave" in NYC last week, not only did she text during the movie, but she (this is going to shock the hell out of you) went off on the woman who asked her to please stop.  That does it…I'm officially trashing my copy of "The Immaculate Collection" and switching all my workout tunes to Lady Gaga.
Speaking of Lady Gaga, she's apparently deeply in the midst of a feud with Perez Hilton, apparently some kind of girl-fight.  No one is sure exactly what the two are scratching and clawing about, but Perez did post this shot of Gaga from her recent "V" shoot:
Perez snarkily noted that the pic is obviously art, not porn…because…ummm…she has white face paint on.  If you ask me, Gaga is just pissed that Miley Cyrus has gotten all the press for the last month.
In other diva news, Katy Perry's parents, who are evangelical preachers, are becoming increasingly vocal about their displeasure with their daughter's career choices, calling her a "devil child" who has "fallen into the hands of Satan".  I can't imagine what the hell they are talking about:
If Katy is in Satan's hands, it's a pretty sure bet that Niki Minaj had to scoot over to make room for her.  Niki has become Instagram's new best customer:
Animal prints…never wrong.
There are two minor scandals this week that involve magazine covers.  In the first, Gwyneth Paltrow is pissed that "Vanity Fair" is running a cover piece about her of which she does not approve.  Rumor has it that the glossy mag is going to reveal that Gwyneth is having an affair with Miami billionaire Jeff Soffer.
I don't think that was it.  I think Vanity Fair called Gwyneth a bitch without calling her Grand Queen Empress Bitch Of The Galaxy.  But maybe that's just me being jealous.
The other huge bugaboo was over this photo of Melissa McCarthy on the cover of "Elle":
You know what the complaint is?  That they covered her in a coat because she's overweight.  But no one was upset by her GQ photos:
File under: No good deed goes unpunished.
Ok, so we've covered all the classy women.  It would be unfair If we didn't search under a couple of rocks for guys who are a credit to their gender.  Let's begin with Dan Akroyd.  He was doing an interview on an Australian talk show hosted by Ellen Fanning, and completely lost his shit and stormed off the set when she resisted talking about his latest business venture, Crystal Head Vodka.  He later referred to Fanning as "a fucking hosebag".  What is it with celebrities and booze, anyway?  Justin Timberlake and George Clooney and Sammy Hagar all have their own brand of tequilla, Drew Barrymore has her own line of wines, and Betheny Frankel is CEO of Skinny Girl, which features a whole range of ethanol products for the "Real Wives" crowd:
I'm looking forward to complete marijuana legalization, so we can shop for Miley Maui Wowy, Bieber Blunts, and Snoopdog Slims.
The other classy guy in the news is A-Rod, who according a soon-to-be-released book, had not only a taste for goose-juice, but a proclivity for employing the Big Apple's ladies of the evening, almost always bringing them to his apartment in twos and threes, once narrowly missing a subsequent visit by Cameron Diaz.  Question: Why would he be doing hookers when he's doing Cameron Diaz?  Answer: Because he can.
Finally, more votes in the Parents Of The Year competition: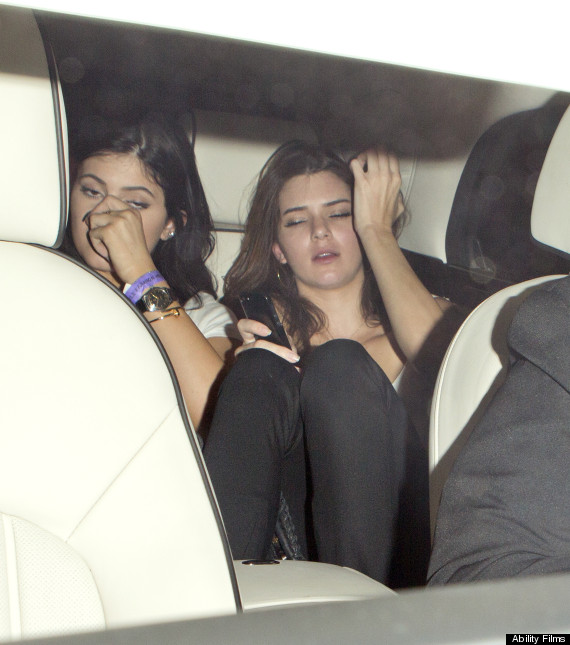 That's Kylie and Kendall Jenner in a car outside over-21 club Vignette in Hollywood after partying with Kourtney's baby-daddy Scott Disick.  I'm guessing they were just…umm…tired.
BW