Posted by Benjamin Wendell in Politics.
Tags: agema, chris clemons, chris kluwe, doma, everhart, gay marriage, prop 8, supreme court, willie nelson
1 comment so far
Hunter Thompson famously remarked, "When the going gets weird, the weird turn pro."  If Thompson could still be here for the Supreme Court case on DOMA and California's Prop 8, he'd probably do a couple of lines of coke, munch some peyote buttons, and go out in the back with his .357 Magnum to shoot some shit…because like the man says, the weird turn pro.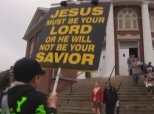 There's just no other explanation for it when some 11 year-old kid is standing outside a North Carolina church spouting senseless propaganda like, "The Bible talks about the homosexuals — they're worthy of death."  Yeah, well the Bible also talks about people who eat shellfish, and they're worthy of death too, so maybe you should be protesting outside Red Lobster.
Or take a look at Dave Agema, Michigan Republican National Committeeman, who is using his Facebook page to claim that part of the "homosexual agenda" is to "get the public to affirm their filthy lifestyle".  And when he is challenged on this sort of hateful rhetoric, he, conforming to the GOP handbook, doesn't back down, but doubles down (Don't retreat, reload.)  His followup Facebook reply is notable for its many factual, grammatical, and spelling errors.  Here's my favorite lines: "I can send you reems [sic] of studies showing the negative health affects [sic] of this lifestyle," Agema wrote. "Instead you would have us accept it, teach it to our kids, include it in our platform and cause great harm to society."  Listen, fella, you'd do well to stop worrying if they're going to teach gay marriage as an alternative lifestyle in school and worry more whether they can teach you how to compose a coherent sentence.
Stop for a moment and consider the argument of Georgia GOP Chairwoman Sue Everhart, who warns that if gay marriage is legalized, there will be a rash of straight individuals entering into sham gay marriages just to receive spousal benefits.  She says this with a completely straight face, without ever once stopping to consider the irony of a society in which, thanks to Republican policies, things like health insurance and unemployment benefits and food stamps are at such a premium that anyone would even consider such a bizarre scheme. 
But for pure Twilight Zone creative imagination, no one is going to top Italian scientist Gian Paolo Vanoli.  Vanoli claims that homosexuality is a disease, a form of autism, and that it is caused by…wait for it…vaccines.  Ironically, Vanoli supports gay marriage and gay adoption, because he doesn't believe in discriminating against people who are afflicted with an illness.  Great.  With friends like these….
At the same time, there have been rumors swirling around the internet that a gay NFL player is about to come out of the closet.  There are a lot of NFL players who want to believe that with 33 teams, each with 53 players on the roster, not a single one of them has ever sucked a dick. Like  Seahawks defensive end Chris Clemons, who thinks such a move would be "selfish" on the part of the player outing himself.  Minnesota Vikings punter Chris Kluwe issues the only possible response: "Grow the fuck up".
In the absence of Hunter Thompson, I think it's appropriate that we turn to another folk philosopher for a much-needed dose of common sense wisdom on this controversy that shouldn't be controversial:
Willie Nelson, apparently the only sane man in the state, tells "Texas Monthly": "It's ridiculous to me that this is something we're having a  conversation about  in this day and age. I thought it was something that was settled a long time ago.  I've known straight and gay people all my life. I can't tell the difference.  People are people where I came from."
And about his equality poster…he's right about that other thing too.
BW